Marginalized Non-Traditional Adult Learners: Beyond Economics
Tara Hyland-Russell

St. Mary's University College

Janet Groen

University of Calgary
Abstract
Changing demographics and patterns of higher education participation in many countries, including Canada, have prompted a growing interest in improving access for non-traditional adult learners. This paper focuses on the results of a research study funded by the Canadian Council on Learning that profiles 71 learners in three Canadian university-level Radical Humanities programs designed for low-income people. Four thematic areas explore the barriers and supports that impact students' ability to access post-secondary education: (1) barriers to further education, (2) concept of self as learner, (3) learning space, and (4) role of the humanities. This paper argues that while poverty limits educational participation, a greater challenge is posed for marginalized non-traditional adult learners by complex relationships among economic and non-material barriers that limit their agency. Effectively increasing post-secondary participation rates for marginalized non-traditional adult learners cannot be achieved by addressing economic issues alone but by addressing the structural nature and impact of inter-related economic and non-material barriers.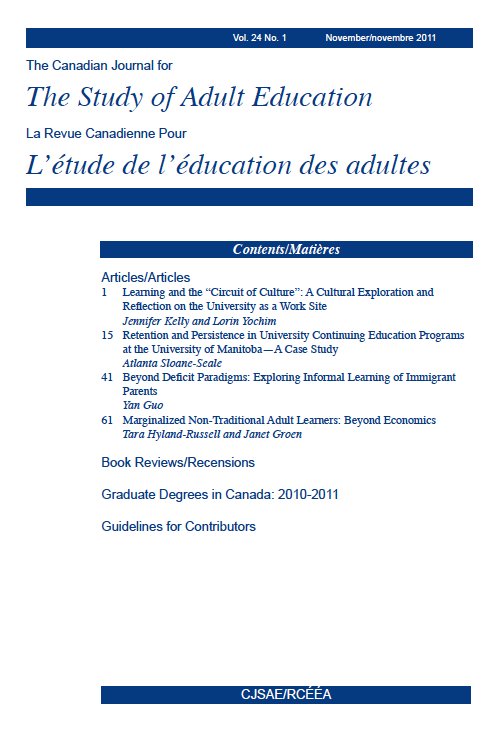 How to Cite
Hyland-Russell, T., & Groen, J. (2011). Marginalized Non-Traditional Adult Learners: Beyond Economics. Canadian Journal for the Study of Adult Education, 24(1), 61-79. Retrieved from https://cjsae.library.dal.ca/index.php/cjsae/article/view/125
Read the full Copyright Notice here.