"Get them young and train them right": Negotiations in a VET partnership
Abstract
This paper explores a high school apprenticeship program in Alberta, Canada, as an example of a market approach to vocational education and training (VET) through social partnership. While this program is seen as a win-win for students and employers, interviews with different partners suggest that there are continuing negotiations over who is responsible for training, who has access to formal training, who pays for it, what kind of knowledge is seen as necessary, how training is delivered, and how it is rewarded by employers. Power relations among the partners are indicated by the outcomes of negotiations and the lack of negotiation in certain areas relevant to effective training. Further, the lack of government incentives for partnership work appears to make programs that involve college training, however beneficial for students, difficult to sustain even in booming economic times.

Résumé

Cet article étudie un programme d'apprenti ayant cours en Alberta, Canada, qui se veut une façon de faire de l'insertion professionnelle et des stages en milieu de travail impliquant un partenariat social. Même si ce programme est perçu comme une situation gagnant-gagnant par l'employeur et l'étudiant, des entrevues avec différents partenaires laissent croire qu'il y a constamment des négociations à faire afin de savoir qui est responsable de la formation, qui a accès à la formation formelle, qui paie pour la formation, quelles connaissances sont considérées comme nécessaires, quel est le format de la formation et comment elle est reconnue par l'employeur. Des relations de pouvoir entre les partenaires transparaissent de la négociation et du manque de négociation dans certains domaines liés aux programmes de formation. En outre, le manque d'incitatifs gouvernementaux visant à développer le travail coopératif rend difficile la mise en place de programmes associés à une formation collégiale dans un contexte de prospérité économique, même s'ils sont bénéfiques pour les étudiants.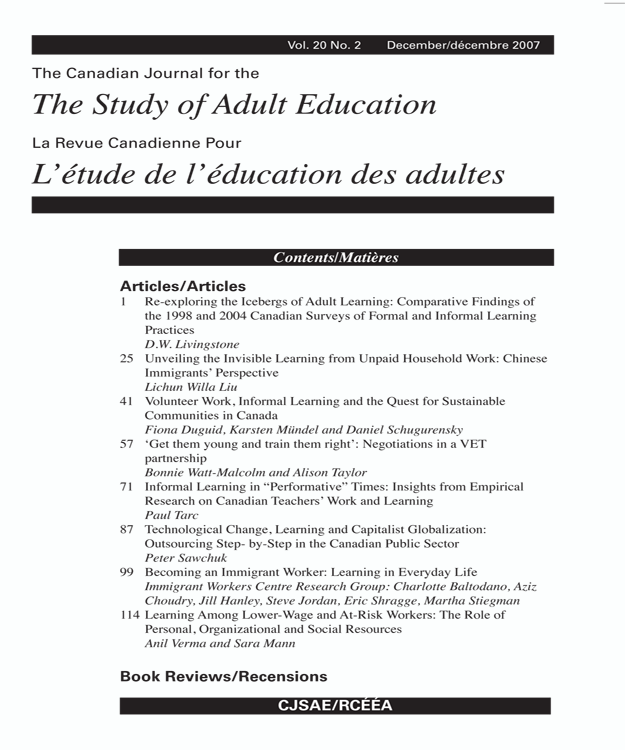 Downloads
How to Cite
Watt-Malcolm, B., & Taylor, A. (2007). "Get them young and train them right": Negotiations in a VET partnership. Canadian Journal for the Study of Adult Education, 20(2), 57–70. Retrieved from https://cjsae.library.dal.ca/index.php/cjsae/article/view/1107
License
Authors of manuscripts accepted for publication will be required to assign copyright to the Canadian Journal for the Study of Adult Education/L'Association canadienne pour l'étude de l'éducation des adultes (CJSAE). CJSAE requests that, as the creator(s)/author(s) of the manuscript your are submitting assign certain rights to the manuscript to the CJSAE in exchange for undertaking to publish the article in print and electronic form and, in general, to pursue its dissemination throughout the world. The rights the CJSAE requests are:
The right to publish the article in print and electronic form or in any other form it may choose that is in keeping with its role as a scholarly journal with the goal of disseminating the work as widely as possible;
The right to be the sole publisher of the article for a period of 12 months;
The right to make the article available to the public within a period of not more than 24 months, as determined by relevant journal staff of the CJSAE;
The right to grant republication rights to itself or others in print, electronic, or any other form, with any revenues accrued to be shared equally between the author(s) and the journal;
The right to administer permission to use portions of the article as requested by others, seeking recompense when the CJSAE sees it as warrented;
The right to seek or take advantage of opportunities to have the article included in a database aimed at increasing awareness of it;
As the author(s), the CJSAE wishes you to retain the right to republish the article, with acknowledgement of the CJSAE as the original publisher, in whole or in part, in any other pbulication of your own, including any anthology that you might edit with up to three others;
As the author(s), the CJSAE withes you to retain the right to place the article on your personal Web page or that of your university or institution. The CJSAE askes that you include this notice: A fully edited, peer-reviewed version of this article was first published by the Canadian Journal for the Study of Adult Education, <Year>, <Volume>, <Issue>, <Page Numbers>.
BY AGREEING TO THE FOREGOING, YOU CONFIRM THAT THE MANUSCRIPT YOU ARE SUBMITTING HAS NOT BEEN PUBLISHED ELSEWHERE IN WHOLE OR IN PART, AND THAT NO AGREEMENT TO PUBLISH IS OUTSTANDING.
SHOULD THE ARTICLE CONTAIN MATERIAL WHICH REQUIRES WRITTEN PERMISSION FOR INCLUSION, YOU AGREE THAT IT IS YOUR OBLIGATION IN LAW TO IDENTIFY SUCH MATERIAL TO THE EDITOR OF THE CJSAE AND TO OBTAIN SUCH PERMISSION. THE CJSAE WILL NOT PAY ANY PERMISSION FEES. SHOULD THE CJSAE BE OF THE OPINION THAT SUCH PERMISSION IS NECESSARY, IT WILL REQUIRE YOU TO PURSUE SHUCH PERMISSSION PRIOR TO PUBLICATION.
AS AUTHOR(S), YOU WARRANT THAT THE ARTICLE BEING SUBMITTED IS ORIGINAL TO YOU.
Provided the foregoing terms are satisfactory, and that you are in agreement with them, please indicate your acceptance by checking the appropriate box and proceed with your submission.
This copyright agreement was extracted with permission from the "Best practices guide to scholarly journal publishing" (2007), produced by the Canadian Association of Learned Journals (CALJ).