Websites as civic tools for advocacy: An examination of two Canadian adult literacy sites
Abstract
This research study explores how web-based technologies might enhance the ways in which not-for-profit adult education organizations engage in advocacy practices in the field of literacy education. Using postmodern policy analysis as a framework, it examines the affordances and limitations of the web-based tools used by two national literacy organizations in Canada, considering how civic agency and advocacy are represented, mediated, and discursively constructed. Discussion of narrative framing, persuasive technologies, and policy tactics offers potential insights into conceiving of how knowledge-dissemination and civic participation can be advanced in new ways. The paper concludes by exploring how particular online engagement strategies might advance the advocacy and policy work of these organizations, and more effectively realize literacy education goals.
Résumé
Cette étude de recherche explore comment les technologies à base de web pourraient améliorer les voies dont les organisations sans but lucratif de l'education des adultes se livrent aux pratiques de plaidoyer dans le domaine de alphabetisation des adultes. En utilisant l'analyse de politique post-moderne comme un cadre, il examine l''affordances et des restrictions des instruments à base de web utilisés par deux organisations Canadien de alphabétisation, en réfléchissant comment l'agence civique et le plaidoyer sont représentés, négociés et construits discursivement. La discussion d'histoire que les technologies encadrantes, persuasives et la tactique de politique offrent des pénétrations potentielles dans le fait de concevoir de comment la diffusion de connaissance et la participation civique peuvent être avancés de nouvelles façons. Le papier se termine en explorant comment les stratégies d''engagement en ligne particulières pourraient avancer le plaidoyer et le travail de politique de ces organisations et réaliser plus efficacement des buts de alphabétisation.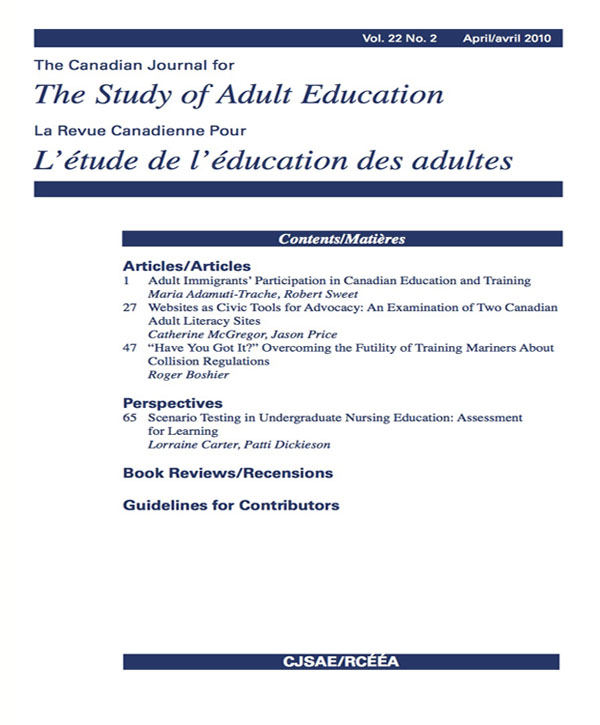 Downloads
How to Cite
McGregor, C., & Price, J. (2010). Websites as civic tools for advocacy: An examination of two Canadian adult literacy sites. Canadian Journal for the Study of Adult Education, 22(2), 27–46. Retrieved from https://cjsae.library.dal.ca/index.php/cjsae/article/view/970
License
Authors of manuscripts accepted for publication will be required to assign copyright to the Canadian Journal for the Study of Adult Education/L'Association canadienne pour l'étude de l'éducation des adultes (CJSAE). CJSAE requests that, as the creator(s)/author(s) of the manuscript your are submitting assign certain rights to the manuscript to the CJSAE in exchange for undertaking to publish the article in print and electronic form and, in general, to pursue its dissemination throughout the world. The rights the CJSAE requests are:
The right to publish the article in print and electronic form or in any other form it may choose that is in keeping with its role as a scholarly journal with the goal of disseminating the work as widely as possible;
The right to be the sole publisher of the article for a period of 12 months;
The right to make the article available to the public within a period of not more than 24 months, as determined by relevant journal staff of the CJSAE;
The right to grant republication rights to itself or others in print, electronic, or any other form, with any revenues accrued to be shared equally between the author(s) and the journal;
The right to administer permission to use portions of the article as requested by others, seeking recompense when the CJSAE sees it as warrented;
The right to seek or take advantage of opportunities to have the article included in a database aimed at increasing awareness of it;
As the author(s), the CJSAE wishes you to retain the right to republish the article, with acknowledgement of the CJSAE as the original publisher, in whole or in part, in any other pbulication of your own, including any anthology that you might edit with up to three others;
As the author(s), the CJSAE withes you to retain the right to place the article on your personal Web page or that of your university or institution. The CJSAE askes that you include this notice: A fully edited, peer-reviewed version of this article was first published by the Canadian Journal for the Study of Adult Education, <Year>, <Volume>, <Issue>, <Page Numbers>.
BY AGREEING TO THE FOREGOING, YOU CONFIRM THAT THE MANUSCRIPT YOU ARE SUBMITTING HAS NOT BEEN PUBLISHED ELSEWHERE IN WHOLE OR IN PART, AND THAT NO AGREEMENT TO PUBLISH IS OUTSTANDING.
SHOULD THE ARTICLE CONTAIN MATERIAL WHICH REQUIRES WRITTEN PERMISSION FOR INCLUSION, YOU AGREE THAT IT IS YOUR OBLIGATION IN LAW TO IDENTIFY SUCH MATERIAL TO THE EDITOR OF THE CJSAE AND TO OBTAIN SUCH PERMISSION. THE CJSAE WILL NOT PAY ANY PERMISSION FEES. SHOULD THE CJSAE BE OF THE OPINION THAT SUCH PERMISSION IS NECESSARY, IT WILL REQUIRE YOU TO PURSUE SHUCH PERMISSSION PRIOR TO PUBLICATION.
AS AUTHOR(S), YOU WARRANT THAT THE ARTICLE BEING SUBMITTED IS ORIGINAL TO YOU.
Provided the foregoing terms are satisfactory, and that you are in agreement with them, please indicate your acceptance by checking the appropriate box and proceed with your submission.
This copyright agreement was extracted with permission from the "Best practices guide to scholarly journal publishing" (2007), produced by the Canadian Association of Learned Journals (CALJ).