Adult immigrants' participation in Canadian education and training
Abstract
Many newly arrived adult immigrants enroll in post-secondary institutions and adult education training programs in search of Canadian credentials that would improve their career opportunities. In this study, we examine the antecedents and correlates of participation in education and training by adult immigrants who arrived in Canada between October 2000 and September 2001. We employ two waves of the Longitudinal Survey of Immigrants to Canada (LSIC), which provides extensive information on the education, work experience, and family situations of immigrants for the two-year period following their arrival. We adopt Cross's (1981) model of adult education participation, and identify relevant individual, situational, dispositional, and immigrant-specific factors to predict participation. We find that, in addition to factors generally recognized in the literature as affecting participation, immigrants' decisions to participate in education and training are significantly affected by personal and situational features of the immigrant settlement process.
Résumé
Nombreux nouveaux immigrés adultes s'inscrivent dans des institutions postsecondaires, ou dans des programmes de formation continue à la recherche des diplômes qui amélioreraient leurs possibilités de carrière. Dans cette étude, nous examinons les facteurs antécédents et corrélatifs de cette participation dans le processus d'éducation ou de formation continue dans le cas des immigrés adultes arrivés au Canada entre octobre 2000 et septembre 2001. Nous utilisons deux cycles de l'Enquête longitudinale auprès des immigrants du Canada (ELIC) qui fournit des informations sur le niveau d'éducation, l'expérience de travail et les situations familiales des immigrés adultes pendant les deux années suivant leur arrivée au Canada. Nous adoptons le modèle de participation des adultes à des activités de formation proposé par Cross (1981) et identifions les facteurs qui sont spécifiques à la participation des immigrés adultes. Nous concluons qu'à part les facteurs généralement reconnus par la littérature de spécialité comme influençant la participation des adultes, les conditions personnelles et situationnelles du processus d'installation au Canada influencent la décision des immigrés adultes de suivre une formation.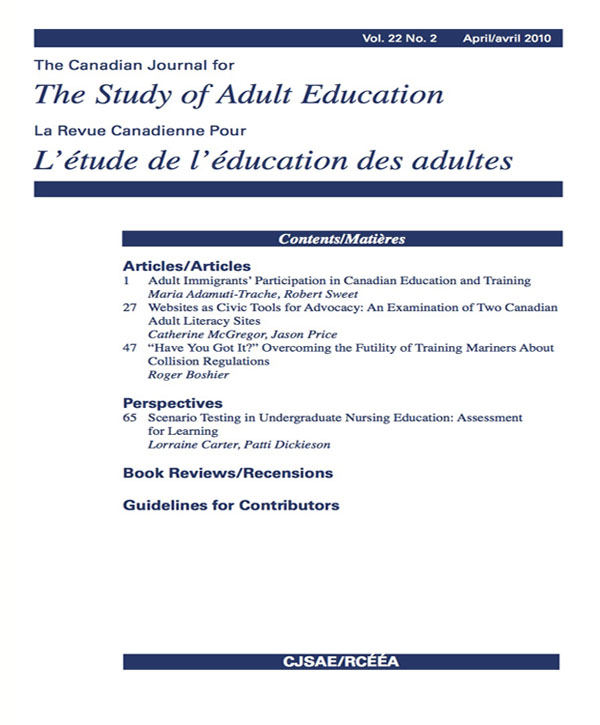 Downloads
How to Cite
Adamuti-Trache, M., & Sweet, R. (2010). Adult immigrants' participation in Canadian education and training. Canadian Journal for the Study of Adult Education, 22(2), 1–26. Retrieved from https://cjsae.library.dal.ca/index.php/cjsae/article/view/969
License
Authors of manuscripts accepted for publication will be required to assign copyright to the Canadian Journal for the Study of Adult Education/L'Association canadienne pour l'étude de l'éducation des adultes (CJSAE). CJSAE requests that, as the creator(s)/author(s) of the manuscript your are submitting assign certain rights to the manuscript to the CJSAE in exchange for undertaking to publish the article in print and electronic form and, in general, to pursue its dissemination throughout the world. The rights the CJSAE requests are:
The right to publish the article in print and electronic form or in any other form it may choose that is in keeping with its role as a scholarly journal with the goal of disseminating the work as widely as possible;
The right to be the sole publisher of the article for a period of 12 months;
The right to make the article available to the public within a period of not more than 24 months, as determined by relevant journal staff of the CJSAE;
The right to grant republication rights to itself or others in print, electronic, or any other form, with any revenues accrued to be shared equally between the author(s) and the journal;
The right to administer permission to use portions of the article as requested by others, seeking recompense when the CJSAE sees it as warrented;
The right to seek or take advantage of opportunities to have the article included in a database aimed at increasing awareness of it;
As the author(s), the CJSAE wishes you to retain the right to republish the article, with acknowledgement of the CJSAE as the original publisher, in whole or in part, in any other pbulication of your own, including any anthology that you might edit with up to three others;
As the author(s), the CJSAE withes you to retain the right to place the article on your personal Web page or that of your university or institution. The CJSAE askes that you include this notice: A fully edited, peer-reviewed version of this article was first published by the Canadian Journal for the Study of Adult Education, <Year>, <Volume>, <Issue>, <Page Numbers>.
BY AGREEING TO THE FOREGOING, YOU CONFIRM THAT THE MANUSCRIPT YOU ARE SUBMITTING HAS NOT BEEN PUBLISHED ELSEWHERE IN WHOLE OR IN PART, AND THAT NO AGREEMENT TO PUBLISH IS OUTSTANDING.
SHOULD THE ARTICLE CONTAIN MATERIAL WHICH REQUIRES WRITTEN PERMISSION FOR INCLUSION, YOU AGREE THAT IT IS YOUR OBLIGATION IN LAW TO IDENTIFY SUCH MATERIAL TO THE EDITOR OF THE CJSAE AND TO OBTAIN SUCH PERMISSION. THE CJSAE WILL NOT PAY ANY PERMISSION FEES. SHOULD THE CJSAE BE OF THE OPINION THAT SUCH PERMISSION IS NECESSARY, IT WILL REQUIRE YOU TO PURSUE SHUCH PERMISSSION PRIOR TO PUBLICATION.
AS AUTHOR(S), YOU WARRANT THAT THE ARTICLE BEING SUBMITTED IS ORIGINAL TO YOU.
Provided the foregoing terms are satisfactory, and that you are in agreement with them, please indicate your acceptance by checking the appropriate box and proceed with your submission.
This copyright agreement was extracted with permission from the "Best practices guide to scholarly journal publishing" (2007), produced by the Canadian Association of Learned Journals (CALJ).