Adult immigrants' participation in Canadian education and training
Maria Adamuti-Trache

University of British Columbia

Robert Sweet

Lakehead University
Abstract
Many newly arrived adult immigrants enroll in post-secondary institutions and adult education training programs in search of Canadian credentials that would improve their career opportunities. In this study, we examine the antecedents and correlates of participation in education and training by adult immigrants who arrived in Canada between October 2000 and September 2001. We employ two waves of the Longitudinal Survey of Immigrants to Canada (LSIC), which provides extensive information on the education, work experience, and family situations of immigrants for the two-year period following their arrival. We adopt Cross's (1981) model of adult education participation, and identify relevant individual, situational, dispositional, and immigrant-specific factors to predict participation. We find that, in addition to factors generally recognized in the literature as affecting participation, immigrants' decisions to participate in education and training are significantly affected by personal and situational features of the immigrant settlement process.
Résumé
Nombreux nouveaux immigrés adultes s'inscrivent dans des institutions postsecondaires, ou dans des programmes de formation continue à la recherche des diplômes qui amélioreraient leurs possibilités de carrière. Dans cette étude, nous examinons les facteurs antécédents et corrélatifs de cette participation dans le processus d'éducation ou de formation continue dans le cas des immigrés adultes arrivés au Canada entre octobre 2000 et septembre 2001. Nous utilisons deux cycles de l'Enquête longitudinale auprès des immigrants du Canada (ELIC) qui fournit des informations sur le niveau d'éducation, l'expérience de travail et les situations familiales des immigrés adultes pendant les deux années suivant leur arrivée au Canada. Nous adoptons le modèle de participation des adultes à des activités de formation proposé par Cross (1981) et identifions les facteurs qui sont spécifiques à la participation des immigrés adultes. Nous concluons qu'à part les facteurs généralement reconnus par la littérature de spécialité comme influençant la participation des adultes, les conditions personnelles et situationnelles du processus d'installation au Canada influencent la décision des immigrés adultes de suivre une formation.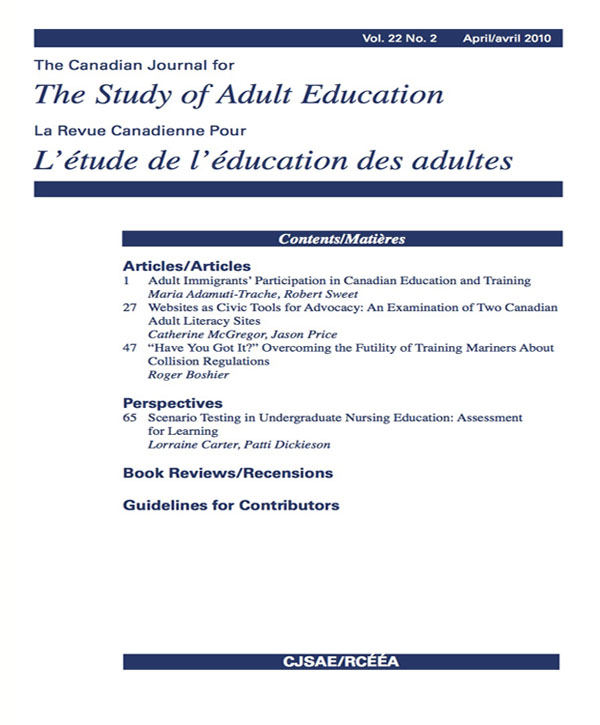 How to Cite
Adamuti-Trache, M., & Sweet, R. (2010). Adult immigrants' participation in Canadian education and training. Canadian Journal for the Study of Adult Education, 22(2), 1-26. Retrieved from https://cjsae.library.dal.ca/index.php/cjsae/article/view/969
Read the full Copyright Notice here.