What do you think you're doing? An Examination of an evolving praxis of Teaching Teachers
Keywords:
Adult Education, Social movement and workplace learning, Praxis
Abstract
This paper examines some of the tensions, contradictions and opportunities that arise for new Graduate Teaching Assistants (GTAs) in the Teacher Education Program (TEP) of a large, research-intensive Canadian university. I am a long-time feminist activist with experience in informal and community education and political organizing, now gaining more experience as an instructor in a Teacher Education Program. This paper charts my analysis of various tensions between the university and the teacher education program, and between teacher candidate students and their instructor (me) who has not been in a K-12 classroom since my own high school days. As part of this examination, I offer an analysis of the training PhD candidates receive for teaching in the Teacher Education Program. My experiences and observations of these tensions contribute to a developing'praxis' as an educator and academic.
References
Bickford, S. (1996). The dissonance of democracy: Listening, conflict, and citizenship. Ithaca, NY: Cornell University Press.
Bourdieu, P. (1984). Distinction: A social critique of the judgment of taste. (R. Nice, Trans). Cambridge, MA: Harvard University Press: (Original work published 1977).
Bourdieu, P. (2000). Pascalian meditations, (R. Nice, Trans). Stanford CA: Stanford University Press (Original work published 1997).
Freire, P. (2000), Pedagogy of the oppressed 30th anniversary edition, (M. Ramos, Trans). New York: Continuum Publishing (Original work published 1968).
Girls accepting sexual harassment as a fact of life: Report (2008) http://www.citynews.ca/2008/02/22/girls-accepting-sexual-assault-at-school-as-fact-of-life-reports/. Accessed October 14, 2013
Jochild, M., & Sherover-Marcuse, R. (2004). A primer on unlearning classism http://maggiesmetawatershed.blogspot.ca/2007/09/primer-on-unlearning-classism.html Accessed March 29, 2012
Korthagen, F., Loughran, J., & Russell, T. (2006). Developing fundamental principles for teacher education programs and practices. Teaching and Teacher Education, 22 (8), 1020-1041.
Kozol, J. (1990). The night is dark and I am far from home: A bold inquiry into the values and goals of America's school, (2nd ed.). London: Simon & Schuster.
Pratt, D. (1998). Five perspectives on teaching in adult and higher education. Malabar, FL: Kreiger Publishing.
Runte, R. (1995). Is teaching a profession? In G. Taylor, and R. Runte (Eds.) Thinking about teaching: An introduction (pp. 288-299). Toronto: Harcourt Brace.
UBC Teacher Education Viewbook 2013/14 (2013) http://issuu.com/ubcteachereducation/docs/ubcteachereducation-viewbook-2013-1/13?e=6659470/4524895 Accessed September 9, 2013.
Weiler, K. (2001). Feminist engagements: Reading, resisting and revisioning male theorists in education and cultural studies. New York: Routledge.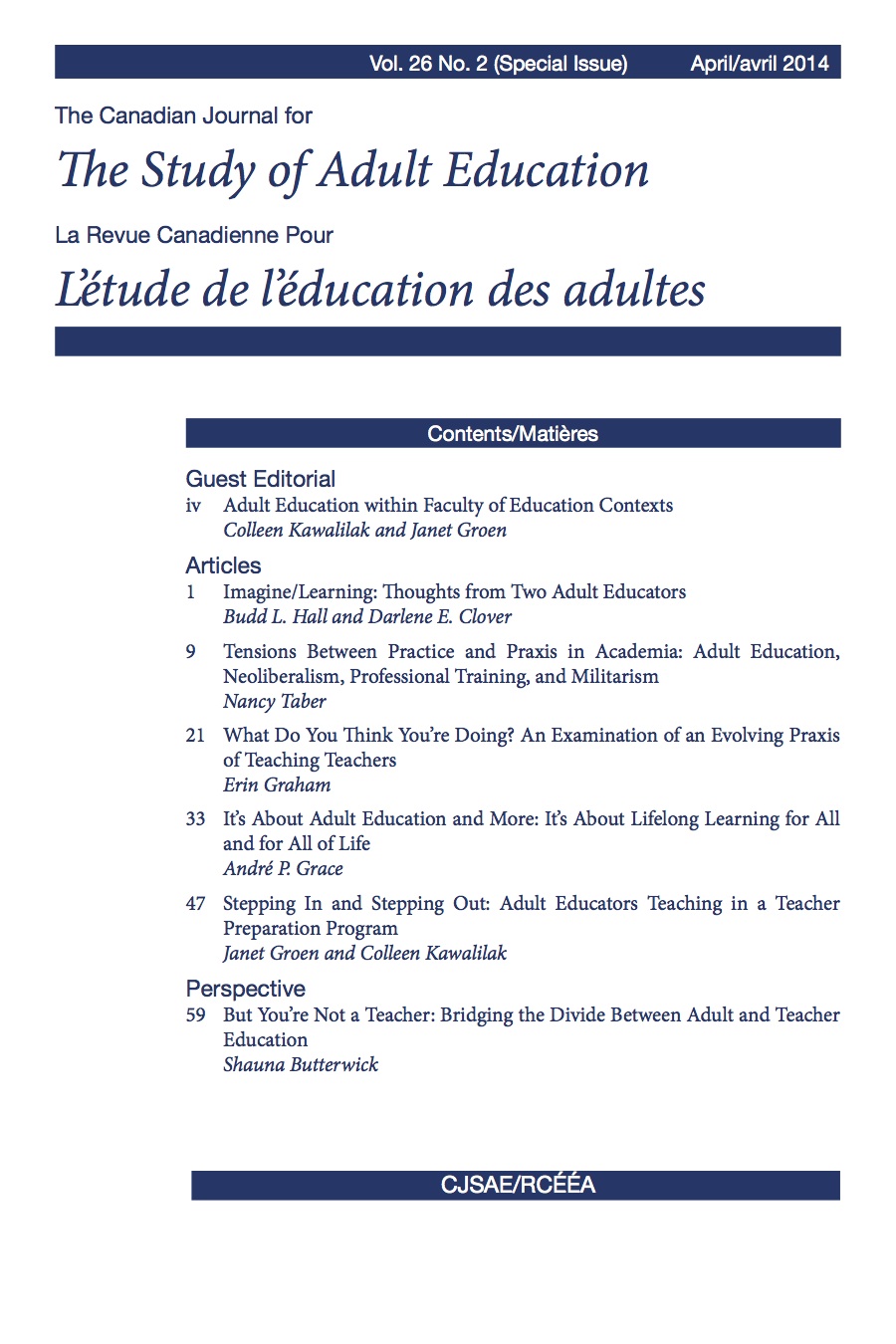 Downloads
How to Cite
Graham, E. (2014). What do you think you're doing? An Examination of an evolving praxis of Teaching Teachers. Canadian Journal for the Study of Adult Education, 26(2 SI), 21–32. Retrieved from https://cjsae.library.dal.ca/index.php/cjsae/article/view/3023
License
Authors of manuscripts accepted for publication will be required to assign copyright to the Canadian Journal for the Study of Adult Education/L'Association canadienne pour l'étude de l'éducation des adultes (CJSAE). CJSAE requests that, as the creator(s)/author(s) of the manuscript your are submitting assign certain rights to the manuscript to the CJSAE in exchange for undertaking to publish the article in print and electronic form and, in general, to pursue its dissemination throughout the world. The rights the CJSAE requests are:
The right to publish the article in print and electronic form or in any other form it may choose that is in keeping with its role as a scholarly journal with the goal of disseminating the work as widely as possible;
The right to be the sole publisher of the article for a period of 12 months;
The right to make the article available to the public within a period of not more than 24 months, as determined by relevant journal staff of the CJSAE;
The right to grant republication rights to itself or others in print, electronic, or any other form, with any revenues accrued to be shared equally between the author(s) and the journal;
The right to administer permission to use portions of the article as requested by others, seeking recompense when the CJSAE sees it as warrented;
The right to seek or take advantage of opportunities to have the article included in a database aimed at increasing awareness of it;
As the author(s), the CJSAE wishes you to retain the right to republish the article, with acknowledgement of the CJSAE as the original publisher, in whole or in part, in any other pbulication of your own, including any anthology that you might edit with up to three others;
As the author(s), the CJSAE withes you to retain the right to place the article on your personal Web page or that of your university or institution. The CJSAE askes that you include this notice: A fully edited, peer-reviewed version of this article was first published by the Canadian Journal for the Study of Adult Education, <Year>, <Volume>, <Issue>, <Page Numbers>.
BY AGREEING TO THE FOREGOING, YOU CONFIRM THAT THE MANUSCRIPT YOU ARE SUBMITTING HAS NOT BEEN PUBLISHED ELSEWHERE IN WHOLE OR IN PART, AND THAT NO AGREEMENT TO PUBLISH IS OUTSTANDING.
SHOULD THE ARTICLE CONTAIN MATERIAL WHICH REQUIRES WRITTEN PERMISSION FOR INCLUSION, YOU AGREE THAT IT IS YOUR OBLIGATION IN LAW TO IDENTIFY SUCH MATERIAL TO THE EDITOR OF THE CJSAE AND TO OBTAIN SUCH PERMISSION. THE CJSAE WILL NOT PAY ANY PERMISSION FEES. SHOULD THE CJSAE BE OF THE OPINION THAT SUCH PERMISSION IS NECESSARY, IT WILL REQUIRE YOU TO PURSUE SHUCH PERMISSSION PRIOR TO PUBLICATION.
AS AUTHOR(S), YOU WARRANT THAT THE ARTICLE BEING SUBMITTED IS ORIGINAL TO YOU.
Provided the foregoing terms are satisfactory, and that you are in agreement with them, please indicate your acceptance by checking the appropriate box and proceed with your submission.
This copyright agreement was extracted with permission from the "Best practices guide to scholarly journal publishing" (2007), produced by the Canadian Association of Learned Journals (CALJ).