In case of emergency, break convention: A case study of a Human Library project in an art gallery
Keywords:
Adult education, Art Gallery, Portraiture, Human Library, Social Change
Abstract
Against a backdrop of elitism and exclusion, many public art galleries are adopting educational processes aimed at tackling society's pressing social and cultural problems. This paper shares the findings of case study of one such project, a Human Library (HL), hosted alongside a portraiture exhibition in an Art Gallery in British Columbia. Findings show how this 'safe' space of 'discomfort' illuminated stereotyping, bias, and ignorance and the subsequent transformation of perspectives around both people and art. It also provided a critical space of social reflection on the media and gender issues. Yet those who attended were predominantly middle and upper class and female and there was confusion around the link between the portraits, the mission of the Gallery and the HL. However, the Gallery can be seen as an intentional, critical space of adult education, playing a unique role in promoting social justice and change.
References
Allman, P. (2001). Critical education against global capitalism: Karl Marx and critical revolutionary education. London: Bergin & Garvey.
Belifore, E. and Bennett, O. (2008) The Social Impact of the Arts, London: Palgrave MacMillan.
Borg, C. & Mayo, P. (2010). Museums: Adult education as cultural politics. In E. Taylor & M. Parrish (Eds) Adult Education in Cultural Institutions: Aquariums, Libraries, Museums, Parks and Zoos (pp.35-44). San Francisco: Jossey-Bass).
Cameron, D. (2004). The museum, a temple or the forum. In G. Anderson (Ed), Reinventing the museum: Historical and contemporary perspectives on the paradigm shift (pp.61-73). Walnut Creek, California: Altamira Press.
Chobot, M. & Chobot, R. (1990). Museums as educational institutions. New Directions for Adult and Continuing Education, 47. San Francisco: Jossey-Bass.
Clover, D.E. (2012). Feminist artists and popular education: The creative turn. In L. Manicom & S. Walters (Eds.), Feminist popular education: Creating pedagogies of possibility (pp. 193-208). New York: Palgrave.
Crenshaw, K. (1991). Mapping the Margins: Intersectionality, identity politics, and
violence against Women of Colour. Stanford Law Review, 43, 1241-1300.
Creswell, J. (2009). Research Design: Qualitative, quantitative and mixed methods approaches. London: Sage
Ellis, L. (2002). The backlash to access. Engage 11, 40-42.
Falk, J. & Dierking, D. (2000). Learning from museums: Visitor experiences and the making of meaning. Plymouth: Altamira Press:
Foucault, M. (1992). The archeology of knowledge. London: Routledge.
Freire, P. & Macedo, D. P. (1995). A dialogue: Culture, language and race. Harvard Educational Review, 65(3), 377-402.
Grek, S. (2004). Whose story do museums tell? In C. Hunt (Ed) Whose story now? (re)generating research in adult learning and teaching, Proceedings of the 34th Annual SCUTREA Conference (pp.101-108). Sheffield: University of Sheffield.
Grenier, R. (2007). Do As I Say, Not As I Do: A Case Study of Two Museum Docent Training Programs, AERC Proceedings. Retrieved on September 20, 2013 from:
http://www.adulterc.org/Proceedings/2005/Proceedings/Grenier.PDF
Hooper-Greenhill, E. (2007). Museums and education: Purpose, pedagogy and education. London: Routledge.
James, C.E. & Shadd, A. (2001). Taking about identity: Encounters in race, ethnicity and language. Toronto: Between the Lines.
Janes, R. (2009). Museums in a troubled world. Milton Park, Abingdon: Routledge.
Kaplan, F. (1996). Museums and the Making of Ourselves: The Role of Objects in National Identity. Leicester: Leicester University Press.
Kudo, K., Motohashi, Y., Enomoto, Y., Kataoka & Yajima, Y. (2011). Bridging differences through dialogue: preliminary findings of the outcomes of the Human Library in a university setting. Retrieved September 05, 2013 from
http://humanlibrary.org/paper-from-dokkyo-university-japan..html
Kumashiro, K. (2000). Towards a theory of anti-oppressive education. Review of Educational Research, 70, 1, 25-53.
Levin, A. (2010). Gender, sexuality and museums. London: Routledge.
Lopes, T. & Thomas, B. (2006). Dancing on live embers: Challenging racism in organizations. Toronto: Between the Line Publishing.
Manicom, L. & Walters, S. (Eds) (2012). Feminist popular education: Creating pedagogies of possibility. New York: Palgrave.
Marcuse, H (1964) One-Dimensional Man (Boston: Beacon)
Marstine, J. (Ed) (2006). New museum theory and practice. Oxford: Blackwell Publishing.
Merriam, S.B. (1998). Qualitative research and case study applications in education. San Francisco: Jossey-Bass.
Newman, M. (2006). Teaching defiance: Stories and strategies for activist educators. San Francisco: Jossey-Bass.
Pollock and Zemans, J. (Eds) (2007). Museums after modernism: Strategies of engagement. Oxford: Blackwell Publishing.
Rule, P. (2004). Dialogic spaces: Adult education projects and social engagement. International Journal of Lifelong Education, 23(4), 319-334.
Smith, M. (n/d). What is pedagogy? Retrieved September 05, 2013 from:
http://infed.org/mobi/what-is-pedagogy/
Tiller, C. (2013). Participatory arts and community development. In M. Mayo, Z Mendiwelso-Bendek & C. Packham (Eds), Community research for community development. London: Palgrave Macmillan.
Whitelaw, A., Foss, B. & Paikowsky, S. (2010). The visual arts in Canada. Don Mills: Oxford University Press Canada.
Wyman, M. (2004). The defiant imagination. Vancouver: Douglas and McIntyre.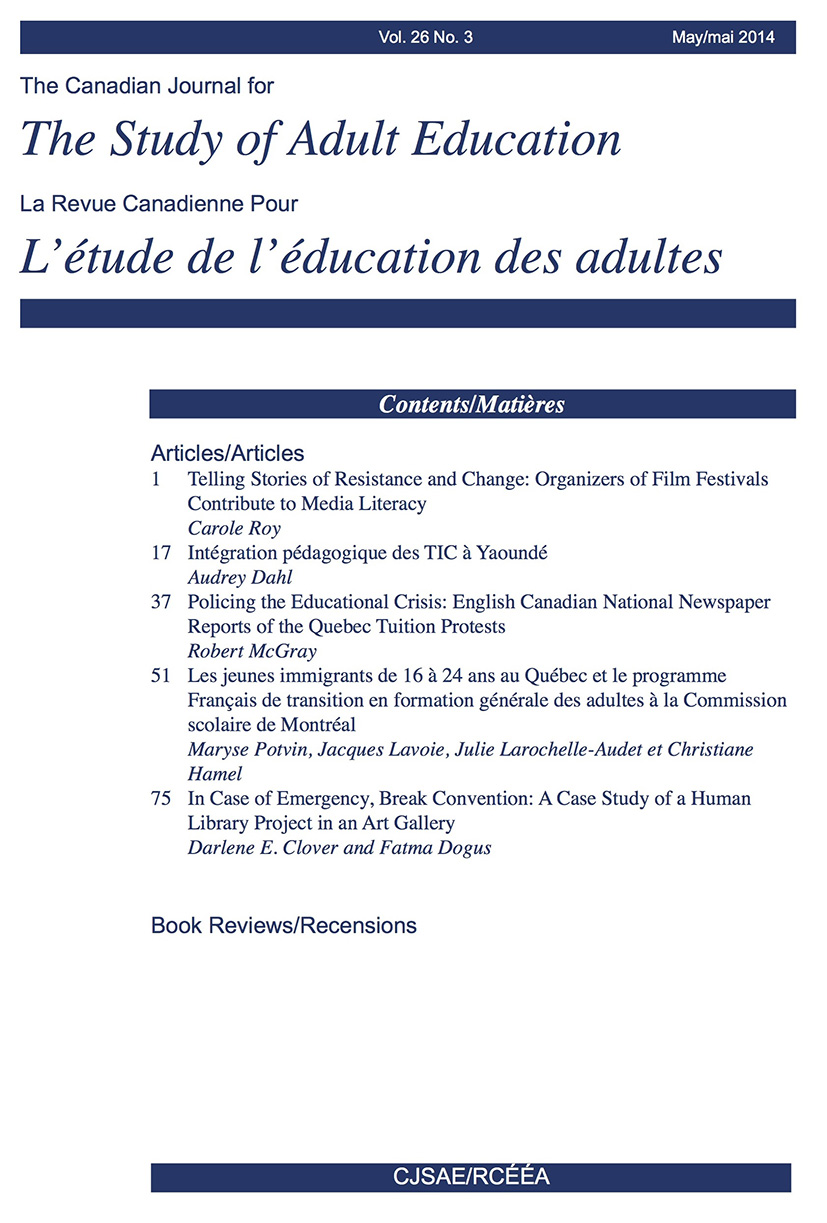 Downloads
How to Cite
Clover, D. (2014). In case of emergency, break convention: A case study of a Human Library project in an art gallery. Canadian Journal for the Study of Adult Education, 26(3). Retrieved from https://cjsae.library.dal.ca/index.php/cjsae/article/view/2839
License
Authors of manuscripts accepted for publication will be required to assign copyright to the Canadian Journal for the Study of Adult Education/L'Association canadienne pour l'étude de l'éducation des adultes (CJSAE). CJSAE requests that, as the creator(s)/author(s) of the manuscript your are submitting assign certain rights to the manuscript to the CJSAE in exchange for undertaking to publish the article in print and electronic form and, in general, to pursue its dissemination throughout the world. The rights the CJSAE requests are:
The right to publish the article in print and electronic form or in any other form it may choose that is in keeping with its role as a scholarly journal with the goal of disseminating the work as widely as possible;
The right to be the sole publisher of the article for a period of 12 months;
The right to make the article available to the public within a period of not more than 24 months, as determined by relevant journal staff of the CJSAE;
The right to grant republication rights to itself or others in print, electronic, or any other form, with any revenues accrued to be shared equally between the author(s) and the journal;
The right to administer permission to use portions of the article as requested by others, seeking recompense when the CJSAE sees it as warrented;
The right to seek or take advantage of opportunities to have the article included in a database aimed at increasing awareness of it;
As the author(s), the CJSAE wishes you to retain the right to republish the article, with acknowledgement of the CJSAE as the original publisher, in whole or in part, in any other pbulication of your own, including any anthology that you might edit with up to three others;
As the author(s), the CJSAE withes you to retain the right to place the article on your personal Web page or that of your university or institution. The CJSAE askes that you include this notice: A fully edited, peer-reviewed version of this article was first published by the Canadian Journal for the Study of Adult Education, <Year>, <Volume>, <Issue>, <Page Numbers>.
BY AGREEING TO THE FOREGOING, YOU CONFIRM THAT THE MANUSCRIPT YOU ARE SUBMITTING HAS NOT BEEN PUBLISHED ELSEWHERE IN WHOLE OR IN PART, AND THAT NO AGREEMENT TO PUBLISH IS OUTSTANDING.
SHOULD THE ARTICLE CONTAIN MATERIAL WHICH REQUIRES WRITTEN PERMISSION FOR INCLUSION, YOU AGREE THAT IT IS YOUR OBLIGATION IN LAW TO IDENTIFY SUCH MATERIAL TO THE EDITOR OF THE CJSAE AND TO OBTAIN SUCH PERMISSION. THE CJSAE WILL NOT PAY ANY PERMISSION FEES. SHOULD THE CJSAE BE OF THE OPINION THAT SUCH PERMISSION IS NECESSARY, IT WILL REQUIRE YOU TO PURSUE SHUCH PERMISSSION PRIOR TO PUBLICATION.
AS AUTHOR(S), YOU WARRANT THAT THE ARTICLE BEING SUBMITTED IS ORIGINAL TO YOU.
Provided the foregoing terms are satisfactory, and that you are in agreement with them, please indicate your acceptance by checking the appropriate box and proceed with your submission.
This copyright agreement was extracted with permission from the "Best practices guide to scholarly journal publishing" (2007), produced by the Canadian Association of Learned Journals (CALJ).