Learning among lower-wage and at-risk workers: The role of personal, organizational, and social resources
Abstract
Lower-wage workers generally report limited access to formal learning opportunities. This paper investigates factors that influence learning among lower-wage workers. Using focus groups and a survey, it examines the role of demographics, self-efficacy, and outcome expectancies related to learning new skills, access to resources, and the moderating role of social capital. Despite their high levels of self-efficacy, expectancies, and motivation to learn, lowerwage workers report a low incidence of training, with only 13% receiving formal training from their employers and only 8% participating in formal training on their own initiative. Although social capital appears to increase the likelihood of participating in learning activities, lower-wage workers tend to report low levels of social capital. These results suggest that lower-wage workers would participate more in formal learning activities if they had better access to learning opportunities and if they had higher levels of social capital.

Résumé

Les petits salariés rapportent généralement avoir peu d'occasions de participer à des activités de formation. Cet article analyse les facteurs influençant l'apprentissage chez les petits salariés. À partir de groupes de discussion et d'un sondage, il s'attarde au rôle des facteurs démographiques, de l'autoefficacité et des attentes liées à l'apprentissage de nouvelles compétence et à l'accessibilité des ressources, et au rôle modérateur du capital social. Malgré leur haut degré d'autoefficacité, leurs attentes et leur motivation à apprendre, peu de formation est offerte aux petits salariés : seulement 13 p. 100 d'entre eux reçoivent de la formation formelle de leur employeur et 8 p. 100 participent à une formation de leur propre initiative. Bien que le capital social semble augmenter la probabilité de participation à des activités d'apprentissage, les petits salariés n'ont généralement pas un niveau élevé de capital social. Ces résultats laissent croire que les petits salariés participeraient davantage à des activités d'apprentissage formel si l'accessibilité à ces formations était facilitée et s'ils possédaient un niveau de capital social plus élevé.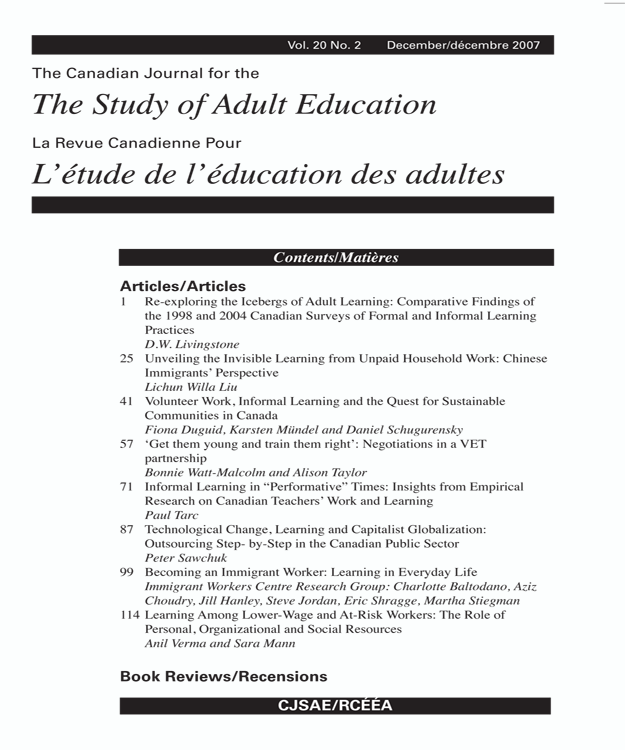 Downloads
How to Cite
Verma, A., & Mann, S. (2007). Learning among lower-wage and at-risk workers: The role of personal, organizational, and social resources. Canadian Journal for the Study of Adult Education, 20(2), 114–129. Retrieved from https://cjsae.library.dal.ca/index.php/cjsae/article/view/1111
License
Authors of manuscripts accepted for publication will be required to assign copyright to the Canadian Journal for the Study of Adult Education/L'Association canadienne pour l'étude de l'éducation des adultes (CJSAE). CJSAE requests that, as the creator(s)/author(s) of the manuscript your are submitting assign certain rights to the manuscript to the CJSAE in exchange for undertaking to publish the article in print and electronic form and, in general, to pursue its dissemination throughout the world. The rights the CJSAE requests are:
The right to publish the article in print and electronic form or in any other form it may choose that is in keeping with its role as a scholarly journal with the goal of disseminating the work as widely as possible;
The right to be the sole publisher of the article for a period of 12 months;
The right to make the article available to the public within a period of not more than 24 months, as determined by relevant journal staff of the CJSAE;
The right to grant republication rights to itself or others in print, electronic, or any other form, with any revenues accrued to be shared equally between the author(s) and the journal;
The right to administer permission to use portions of the article as requested by others, seeking recompense when the CJSAE sees it as warrented;
The right to seek or take advantage of opportunities to have the article included in a database aimed at increasing awareness of it;
As the author(s), the CJSAE wishes you to retain the right to republish the article, with acknowledgement of the CJSAE as the original publisher, in whole or in part, in any other pbulication of your own, including any anthology that you might edit with up to three others;
As the author(s), the CJSAE withes you to retain the right to place the article on your personal Web page or that of your university or institution. The CJSAE askes that you include this notice: A fully edited, peer-reviewed version of this article was first published by the Canadian Journal for the Study of Adult Education, <Year>, <Volume>, <Issue>, <Page Numbers>.
BY AGREEING TO THE FOREGOING, YOU CONFIRM THAT THE MANUSCRIPT YOU ARE SUBMITTING HAS NOT BEEN PUBLISHED ELSEWHERE IN WHOLE OR IN PART, AND THAT NO AGREEMENT TO PUBLISH IS OUTSTANDING.
SHOULD THE ARTICLE CONTAIN MATERIAL WHICH REQUIRES WRITTEN PERMISSION FOR INCLUSION, YOU AGREE THAT IT IS YOUR OBLIGATION IN LAW TO IDENTIFY SUCH MATERIAL TO THE EDITOR OF THE CJSAE AND TO OBTAIN SUCH PERMISSION. THE CJSAE WILL NOT PAY ANY PERMISSION FEES. SHOULD THE CJSAE BE OF THE OPINION THAT SUCH PERMISSION IS NECESSARY, IT WILL REQUIRE YOU TO PURSUE SHUCH PERMISSSION PRIOR TO PUBLICATION.
AS AUTHOR(S), YOU WARRANT THAT THE ARTICLE BEING SUBMITTED IS ORIGINAL TO YOU.
Provided the foregoing terms are satisfactory, and that you are in agreement with them, please indicate your acceptance by checking the appropriate box and proceed with your submission.
This copyright agreement was extracted with permission from the "Best practices guide to scholarly journal publishing" (2007), produced by the Canadian Association of Learned Journals (CALJ).