Unveiling the invisible learning from unpaid household work: Chinese immigrants' perspective
Abstract
This paper examines unpaid household work and the informal learning involved in it, with the focus on new Chinese immigrants in Canada. The data used in this paper are drawn from two sources: the 2004 Canadian Survey on Work and Lifelong Learning , and in-depth interviews with 20 new Chinese immigrants in Toronto, Canada. The survey section examines data on informal learning through housework and general interest-related activities, with a focus on the comparison of three groups of Canadians: Canadian-born, other immigrants, and Chinese immigrants. The survey data explore how gender, immigration, and ethnicity influence the informal learning involved in performing the unpaid household activities. The interview section explores the impact of cross-cultural immigration on household work among new Chinese immigrants and the knowledge and skills they acquired through such work. Through the analysis of both the quantitative and qualitative data, the author argues that unpaid household work and the learning involved in it are not only gendered, but also classed, and that household work is constantly changing throughout one's lifetime; thus, informal learning involved in such work is lifelong as well as lifewide.

Résumé

Cet article se penche sur le travail domestique non rémunéré et l'apprentissage informel qui s'y rattache, plus spécifiquement auprès d'immigrants chinois nouvellement arrivés au Canada. Les données utilisées proviennent de deux sources : un sondage pan-canadien mené en 2004 par le réseau Work and Lifelong Learning (WALL) et des entrevues menées auprès de vingt immigrants chinois, nouvellement établis à Toronto, Canada. La section qui se rapporte au sondage de WALL examine des données relatives à l'apprentissage informel par le travail domestique, et des activités d'intérêt général, auprès de trois groupes différents : canadiens de souche, autres immigrants et immigrants chinois. Les données de WALL s'attardent à la façon dont le sexe, l'immigration et la race influencent l'apprentissage informel impliqué dans le travail domestique non rémunéré. La section qui se rapporte aux entrevues mesure l'impact de l'immigration interculturelle sur le travail domestique chez les nouveaux immigrants chinois; elle fait aussi état des connaissances et compétences acquises par l'entremise de ce travail. À travers l'analyse de données qualitatives et quantitatives, l'auteur argumente que le travail domestique non rémunéré et l'apprentissage informel qui s'y rattache ne sont non seulement liés au sexe, mais aussi à la classe sociale, et que le travail domestique est en constant changement tout au long de la vie. Par conséquent l'apprentissage informel qui s'y rattache se prolonge tout au long et dans toutes les facettes de la vie.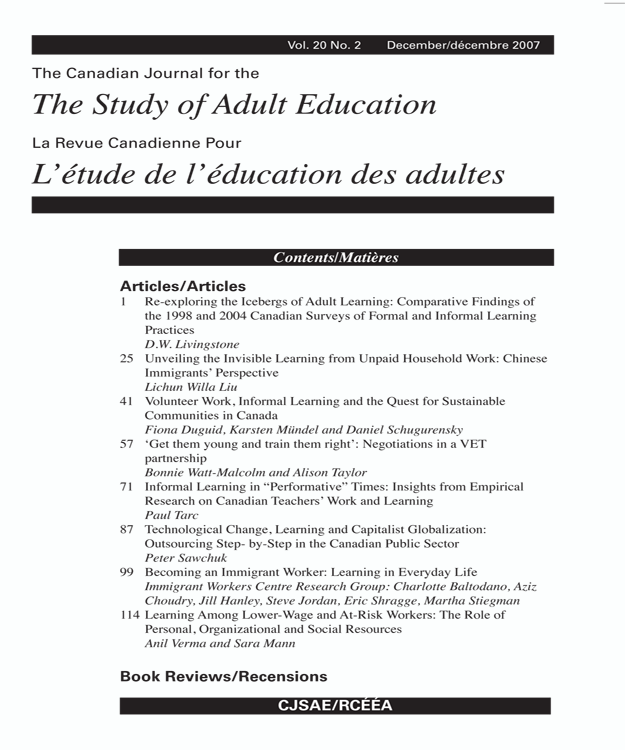 Downloads
How to Cite
Liu, L. W. (2007). Unveiling the invisible learning from unpaid household work: Chinese immigrants' perspective. Canadian Journal for the Study of Adult Education, 20(2), 25–40. Retrieved from https://cjsae.library.dal.ca/index.php/cjsae/article/view/1105
License
Authors of manuscripts accepted for publication will be required to assign copyright to the Canadian Journal for the Study of Adult Education/L'Association canadienne pour l'étude de l'éducation des adultes (CJSAE). CJSAE requests that, as the creator(s)/author(s) of the manuscript your are submitting assign certain rights to the manuscript to the CJSAE in exchange for undertaking to publish the article in print and electronic form and, in general, to pursue its dissemination throughout the world. The rights the CJSAE requests are:
The right to publish the article in print and electronic form or in any other form it may choose that is in keeping with its role as a scholarly journal with the goal of disseminating the work as widely as possible;
The right to be the sole publisher of the article for a period of 12 months;
The right to make the article available to the public within a period of not more than 24 months, as determined by relevant journal staff of the CJSAE;
The right to grant republication rights to itself or others in print, electronic, or any other form, with any revenues accrued to be shared equally between the author(s) and the journal;
The right to administer permission to use portions of the article as requested by others, seeking recompense when the CJSAE sees it as warrented;
The right to seek or take advantage of opportunities to have the article included in a database aimed at increasing awareness of it;
As the author(s), the CJSAE wishes you to retain the right to republish the article, with acknowledgement of the CJSAE as the original publisher, in whole or in part, in any other pbulication of your own, including any anthology that you might edit with up to three others;
As the author(s), the CJSAE withes you to retain the right to place the article on your personal Web page or that of your university or institution. The CJSAE askes that you include this notice: A fully edited, peer-reviewed version of this article was first published by the Canadian Journal for the Study of Adult Education, <Year>, <Volume>, <Issue>, <Page Numbers>.
BY AGREEING TO THE FOREGOING, YOU CONFIRM THAT THE MANUSCRIPT YOU ARE SUBMITTING HAS NOT BEEN PUBLISHED ELSEWHERE IN WHOLE OR IN PART, AND THAT NO AGREEMENT TO PUBLISH IS OUTSTANDING.
SHOULD THE ARTICLE CONTAIN MATERIAL WHICH REQUIRES WRITTEN PERMISSION FOR INCLUSION, YOU AGREE THAT IT IS YOUR OBLIGATION IN LAW TO IDENTIFY SUCH MATERIAL TO THE EDITOR OF THE CJSAE AND TO OBTAIN SUCH PERMISSION. THE CJSAE WILL NOT PAY ANY PERMISSION FEES. SHOULD THE CJSAE BE OF THE OPINION THAT SUCH PERMISSION IS NECESSARY, IT WILL REQUIRE YOU TO PURSUE SHUCH PERMISSSION PRIOR TO PUBLICATION.
AS AUTHOR(S), YOU WARRANT THAT THE ARTICLE BEING SUBMITTED IS ORIGINAL TO YOU.
Provided the foregoing terms are satisfactory, and that you are in agreement with them, please indicate your acceptance by checking the appropriate box and proceed with your submission.
This copyright agreement was extracted with permission from the "Best practices guide to scholarly journal publishing" (2007), produced by the Canadian Association of Learned Journals (CALJ).