We're here, you just don't know how to reach us: A reflexive examination of research with citizens on the socio-economic margins
Abstract
Research that aims to trouble social, cultural, and economic disparities is usually conducted with the best of socially just intentions. Still, embedded in all research processes is the potential to disrupt and, simultaneously, reproduce mechanisms of power that enable inequalities. Hence, as Bourdieu (Bourdieu & Wacquant, 1992) insists, such efforts require reflexive examination that involves an interrogation of practices and regulations guiding research. Drawing upon my own reflexive inquiry, I address in this article some of the methodological challenges that surfaced when I conducted ethnographic doctoral research with socially and economically disadvantaged young adults. I discuss participant recruitment, retention concerns, and ways to support participants' involvement in research. I aim to expose assumptions in research practices that may have inadvertently reproduced some of the inequalities that this research attempted to disturb and to suggest ways to address these challenges.
Résumé
La recherche qui aborde les disparités sociales, culturelles, et économiques est généralement effectuée avec les meilleures intentions socialement juste. Pourtant, intégrée dans tous les processus de recherche est le potentiel de perturber et, simultanément, de reproduire les mécanismes du pouvoir qui permettent aux inégalités. Ainsi, comme Bourdieu (Bourdieu et Wacquant, 1992) insiste, de tels efforts nécessitent un examen des pratiques et des règles régissant la recherche. Je m'adresse dans cet article les défis méthodologiques qui ont surgi lorsque j'ai effectué des recherches ethnographiques de doctorat avec des jeunes adultes qui sont socialement et économiquement défavorisés. Je discute le recrutement des participants, la rétention des préoccupations, et les moyens d'aider les participants à rester impliqués dans la recherche. Je vise à exposer des suppositions dans les pratiques de recherche qui peut reproduit les inégalités que cette recherche a tenté déranger et suggérer des moyens d'aborder ces défis.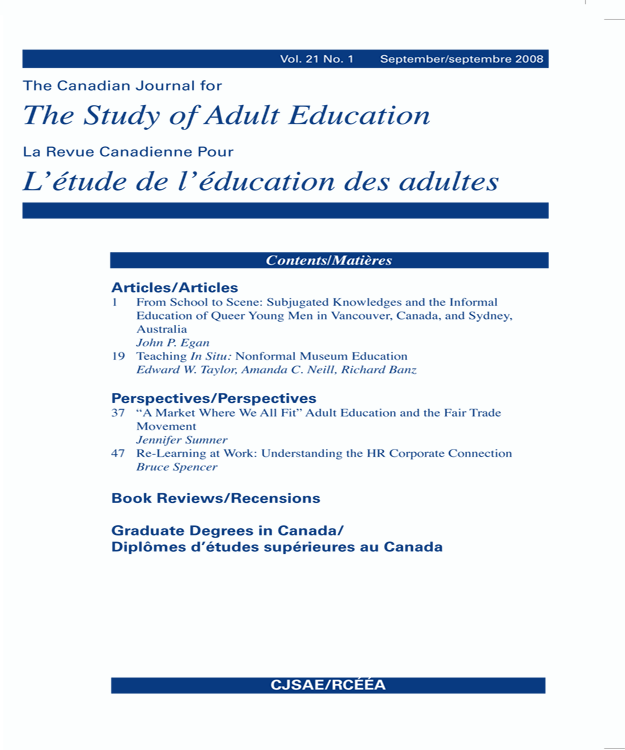 Downloads
How to Cite
Brann-Barrett, M. T. (2009). We're here, you just don't know how to reach us: A reflexive examination of research with citizens on the socio-economic margins. Canadian Journal for the Study of Adult Education, 21(2), 53–66. Retrieved from https://cjsae.library.dal.ca/index.php/cjsae/article/view/1077
License
Authors of manuscripts accepted for publication will be required to assign copyright to the Canadian Journal for the Study of Adult Education/L'Association canadienne pour l'étude de l'éducation des adultes (CJSAE). CJSAE requests that, as the creator(s)/author(s) of the manuscript your are submitting assign certain rights to the manuscript to the CJSAE in exchange for undertaking to publish the article in print and electronic form and, in general, to pursue its dissemination throughout the world. The rights the CJSAE requests are:
The right to publish the article in print and electronic form or in any other form it may choose that is in keeping with its role as a scholarly journal with the goal of disseminating the work as widely as possible;
The right to be the sole publisher of the article for a period of 12 months;
The right to make the article available to the public within a period of not more than 24 months, as determined by relevant journal staff of the CJSAE;
The right to grant republication rights to itself or others in print, electronic, or any other form, with any revenues accrued to be shared equally between the author(s) and the journal;
The right to administer permission to use portions of the article as requested by others, seeking recompense when the CJSAE sees it as warrented;
The right to seek or take advantage of opportunities to have the article included in a database aimed at increasing awareness of it;
As the author(s), the CJSAE wishes you to retain the right to republish the article, with acknowledgement of the CJSAE as the original publisher, in whole or in part, in any other pbulication of your own, including any anthology that you might edit with up to three others;
As the author(s), the CJSAE withes you to retain the right to place the article on your personal Web page or that of your university or institution. The CJSAE askes that you include this notice: A fully edited, peer-reviewed version of this article was first published by the Canadian Journal for the Study of Adult Education, <Year>, <Volume>, <Issue>, <Page Numbers>.
BY AGREEING TO THE FOREGOING, YOU CONFIRM THAT THE MANUSCRIPT YOU ARE SUBMITTING HAS NOT BEEN PUBLISHED ELSEWHERE IN WHOLE OR IN PART, AND THAT NO AGREEMENT TO PUBLISH IS OUTSTANDING.
SHOULD THE ARTICLE CONTAIN MATERIAL WHICH REQUIRES WRITTEN PERMISSION FOR INCLUSION, YOU AGREE THAT IT IS YOUR OBLIGATION IN LAW TO IDENTIFY SUCH MATERIAL TO THE EDITOR OF THE CJSAE AND TO OBTAIN SUCH PERMISSION. THE CJSAE WILL NOT PAY ANY PERMISSION FEES. SHOULD THE CJSAE BE OF THE OPINION THAT SUCH PERMISSION IS NECESSARY, IT WILL REQUIRE YOU TO PURSUE SHUCH PERMISSSION PRIOR TO PUBLICATION.
AS AUTHOR(S), YOU WARRANT THAT THE ARTICLE BEING SUBMITTED IS ORIGINAL TO YOU.
Provided the foregoing terms are satisfactory, and that you are in agreement with them, please indicate your acceptance by checking the appropriate box and proceed with your submission.
This copyright agreement was extracted with permission from the "Best practices guide to scholarly journal publishing" (2007), produced by the Canadian Association of Learned Journals (CALJ).