Life histories of Canadian women as active citizens: Implications for policies and practices in adult education
Abstract
Within the context of neoliberalism and globalization, the concept of active citizenship is an increasingly important concern for all countries, including Canada. This paper focuses on the results of a research study funded by the Canadian Council on Learning that profiles life histories of eight women from Nova Scotia as "active citizens" who have made significant contributions at the local, national/international level. Five thematic areas are considered to explore barriers, supports and motivators that impact on women's participation as active citizens which include a) practical concerns, b) caregiving activities, c) identity issues, d) attitudinal differences, and e) political literacies. Using a critical feminist perspective, this paper argues that adult education has an important role to play in supporting the development of active citizenship through democratic learning contexts that take into account structural forms of inequality, including gender differences in experience.
Résumé
Dans le contexte du néolibéralisme et la mondialisation, le concept de citoyenneté active est une préoccupation de plus en plus important pour tous les pays, y compris le Canada. Ce document met l'accent sur les résultats d'une étude financée par le Conseil canadien sur l'apprentissage que les profils histoires de vie de huit femmes de la Nouvelle-Écosse en tant que "citoyens actifs" qui ont fait des contributions importantes lors du local, national / international. Cinq domaines thématiques sont considérés comme des obstacles à explorer, de motivation et soutient que l'impact sur la participation des femmes en tant que citoyens actifs qui incluent a) concerners pratique, b) activités de soins, c) les questions d'identité, d) des différences d'attitude, et e) politique connaissance. L'aide d'une perspective féministe critique, ce document fait valoir que l'éducation des adultes a un rôle important à jouer pour soutenir le développement de la citoyenneté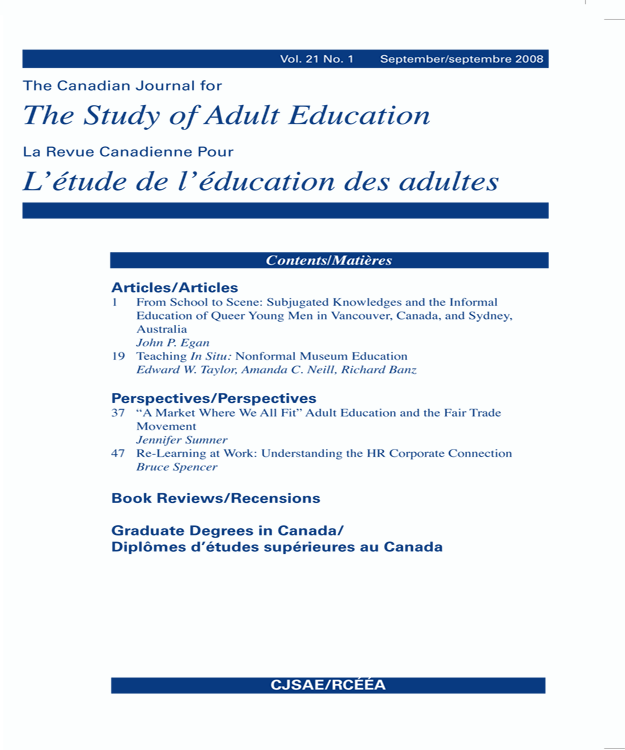 Downloads
How to Cite
Gouthro, P. (2009). Life histories of Canadian women as active citizens: Implications for policies and practices in adult education. Canadian Journal for the Study of Adult Education, 21(2), 19–35. Retrieved from https://cjsae.library.dal.ca/index.php/cjsae/article/view/1075
License
Authors of manuscripts accepted for publication will be required to assign copyright to the Canadian Journal for the Study of Adult Education/L'Association canadienne pour l'étude de l'éducation des adultes (CJSAE). CJSAE requests that, as the creator(s)/author(s) of the manuscript your are submitting assign certain rights to the manuscript to the CJSAE in exchange for undertaking to publish the article in print and electronic form and, in general, to pursue its dissemination throughout the world. The rights the CJSAE requests are:
The right to publish the article in print and electronic form or in any other form it may choose that is in keeping with its role as a scholarly journal with the goal of disseminating the work as widely as possible;
The right to be the sole publisher of the article for a period of 12 months;
The right to make the article available to the public within a period of not more than 24 months, as determined by relevant journal staff of the CJSAE;
The right to grant republication rights to itself or others in print, electronic, or any other form, with any revenues accrued to be shared equally between the author(s) and the journal;
The right to administer permission to use portions of the article as requested by others, seeking recompense when the CJSAE sees it as warrented;
The right to seek or take advantage of opportunities to have the article included in a database aimed at increasing awareness of it;
As the author(s), the CJSAE wishes you to retain the right to republish the article, with acknowledgement of the CJSAE as the original publisher, in whole or in part, in any other pbulication of your own, including any anthology that you might edit with up to three others;
As the author(s), the CJSAE withes you to retain the right to place the article on your personal Web page or that of your university or institution. The CJSAE askes that you include this notice: A fully edited, peer-reviewed version of this article was first published by the Canadian Journal for the Study of Adult Education, <Year>, <Volume>, <Issue>, <Page Numbers>.
BY AGREEING TO THE FOREGOING, YOU CONFIRM THAT THE MANUSCRIPT YOU ARE SUBMITTING HAS NOT BEEN PUBLISHED ELSEWHERE IN WHOLE OR IN PART, AND THAT NO AGREEMENT TO PUBLISH IS OUTSTANDING.
SHOULD THE ARTICLE CONTAIN MATERIAL WHICH REQUIRES WRITTEN PERMISSION FOR INCLUSION, YOU AGREE THAT IT IS YOUR OBLIGATION IN LAW TO IDENTIFY SUCH MATERIAL TO THE EDITOR OF THE CJSAE AND TO OBTAIN SUCH PERMISSION. THE CJSAE WILL NOT PAY ANY PERMISSION FEES. SHOULD THE CJSAE BE OF THE OPINION THAT SUCH PERMISSION IS NECESSARY, IT WILL REQUIRE YOU TO PURSUE SHUCH PERMISSSION PRIOR TO PUBLICATION.
AS AUTHOR(S), YOU WARRANT THAT THE ARTICLE BEING SUBMITTED IS ORIGINAL TO YOU.
Provided the foregoing terms are satisfactory, and that you are in agreement with them, please indicate your acceptance by checking the appropriate box and proceed with your submission.
This copyright agreement was extracted with permission from the "Best practices guide to scholarly journal publishing" (2007), produced by the Canadian Association of Learned Journals (CALJ).