Discovering adult education at McGill University and the University of British Columbia
Abstract
In the early 1920s, McGill University and the University of British Columbia (UBC) were engaged in a traditional form of university extension: the deliveryof evening lectures by university faculty members to people not enrolled as undergraduate or graduate students. By 1935, each university had discovered the broader terrain of adult education and declared itself to be a provider of a range of educational programs and services for working adults. At McGill, adult education was established as an institutional priority in 1928 and largely disappeared by the early 1940s. At UBC, adult education was discovered in 1935 and was sustained as a prominent institutional priority until the 1960s. This article narrates the discovery and establishment of adult education at two of Canada's most prestigious universities, and explores what this narrative means for ourunderstanding of the role of universities in Canadian adult education.
Résumé
Tôt dans les années 1920s, McGill University et l'University of British Columbias'engageaient dans une forme traditionnelle de l'extension universitaire : les conférences de soir données par les membres de faculté aux gens qui ne furent pas inscrits comme étudiants réguliers. Avant 1935, chaque université a découvert le terrain plus divers de l'éducation des adultes, et s'est déclaré fournisseur d'une gamme des programmes et services éducatives pour les adultes. À McGill, l'éducation des adultes a été établie comme priorité institutionnelle en 1928, mais cette priorité a plus ou moins disparu à partir des années 1940s. À UBC, l'éducation des adultes a été découvert en 1935, et a été soutenue comme priorité institutionnelle jusqu'aux années 1960s. Cette article raconte la découverte et l'établissement de l'éducation des adultes à deux des plus prestigieux universités Canadiens, et explore ce que cet narratif veut dire pour notre compréhension durôle des universités dans l'éducation des adultes au Canada.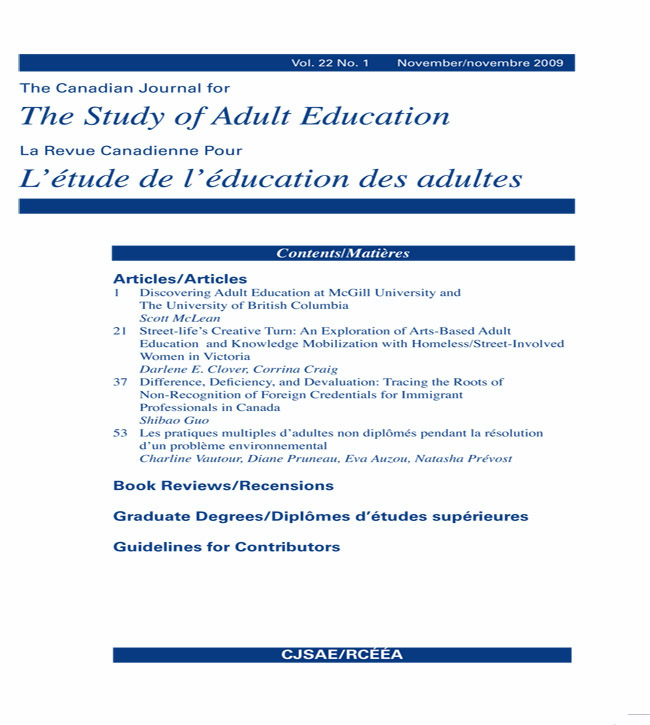 Downloads
How to Cite
MacLean, S. (2009). Discovering adult education at McGill University and the University of British Columbia. Canadian Journal for the Study of Adult Education, 22(1), 1–19. Retrieved from https://cjsae.library.dal.ca/index.php/cjsae/article/view/1000
License
Authors of manuscripts accepted for publication will be required to assign copyright to the Canadian Journal for the Study of Adult Education/L'Association canadienne pour l'étude de l'éducation des adultes (CJSAE). CJSAE requests that, as the creator(s)/author(s) of the manuscript your are submitting assign certain rights to the manuscript to the CJSAE in exchange for undertaking to publish the article in print and electronic form and, in general, to pursue its dissemination throughout the world. The rights the CJSAE requests are:
The right to publish the article in print and electronic form or in any other form it may choose that is in keeping with its role as a scholarly journal with the goal of disseminating the work as widely as possible;
The right to be the sole publisher of the article for a period of 12 months;
The right to make the article available to the public within a period of not more than 24 months, as determined by relevant journal staff of the CJSAE;
The right to grant republication rights to itself or others in print, electronic, or any other form, with any revenues accrued to be shared equally between the author(s) and the journal;
The right to administer permission to use portions of the article as requested by others, seeking recompense when the CJSAE sees it as warrented;
The right to seek or take advantage of opportunities to have the article included in a database aimed at increasing awareness of it;
As the author(s), the CJSAE wishes you to retain the right to republish the article, with acknowledgement of the CJSAE as the original publisher, in whole or in part, in any other pbulication of your own, including any anthology that you might edit with up to three others;
As the author(s), the CJSAE withes you to retain the right to place the article on your personal Web page or that of your university or institution. The CJSAE askes that you include this notice: A fully edited, peer-reviewed version of this article was first published by the Canadian Journal for the Study of Adult Education, <Year>, <Volume>, <Issue>, <Page Numbers>.
BY AGREEING TO THE FOREGOING, YOU CONFIRM THAT THE MANUSCRIPT YOU ARE SUBMITTING HAS NOT BEEN PUBLISHED ELSEWHERE IN WHOLE OR IN PART, AND THAT NO AGREEMENT TO PUBLISH IS OUTSTANDING.
SHOULD THE ARTICLE CONTAIN MATERIAL WHICH REQUIRES WRITTEN PERMISSION FOR INCLUSION, YOU AGREE THAT IT IS YOUR OBLIGATION IN LAW TO IDENTIFY SUCH MATERIAL TO THE EDITOR OF THE CJSAE AND TO OBTAIN SUCH PERMISSION. THE CJSAE WILL NOT PAY ANY PERMISSION FEES. SHOULD THE CJSAE BE OF THE OPINION THAT SUCH PERMISSION IS NECESSARY, IT WILL REQUIRE YOU TO PURSUE SHUCH PERMISSSION PRIOR TO PUBLICATION.
AS AUTHOR(S), YOU WARRANT THAT THE ARTICLE BEING SUBMITTED IS ORIGINAL TO YOU.
Provided the foregoing terms are satisfactory, and that you are in agreement with them, please indicate your acceptance by checking the appropriate box and proceed with your submission.
This copyright agreement was extracted with permission from the "Best practices guide to scholarly journal publishing" (2007), produced by the Canadian Association of Learned Journals (CALJ).