Becoming an immigrant worker: Learning in everyday life
Abstract
This paper will examine the learning process of becoming an immigrant worker in Canada during current neo-liberal restructuring. We view learning as a complex process whereby individuals, embedded in social networks, develop a political analysis of their situation while they develop strategies of response. Our research is grounded in the work of our partner organization, the Immigrant Workers Centre (IWC), a support centre for workers. The paper reviews some of the political and economic forces that place immigrant workers at the bottom of the labour market in Canada. Study participants reflect these general trends. Our analysis draws on participants' interviews and examines their experiences of leaving countries of origin, settling in Canada, and finding work. We conclude with a discussion linking these experiences with wider global forces.

Résumé

Cet article analysera le processus d'apprentissage d'un travailleur immigrant au Canada dans un contexte néo-libéral. Nous considérons l'apprentissage un processus complexe par lequel des individus, intégrés dans des réseaux sociaux, font une analyse politique de leur situation, en développant des stratégies de réponse. Notre recherche s'inscrit dans le travail de notre partenaire, Immigrant Workers Centre (IWC), un centre de soutien aux travailleurs immigrants. L'article passe en revue certaines forces économiques et politiques qui placent les travailleurs immigrants au bas du marché de l'emploi au Canada. Notre analyse fait état d'entrevues avec les clients du centre et passe en revue ce qu'ils ont vécu au moment de quitter leur pays d'origine, de s'installer au Canada et de trouver du travail. En conclusion, il présente une discussion faisant le lien entre ces expériences et des forces globales à plus large échelle.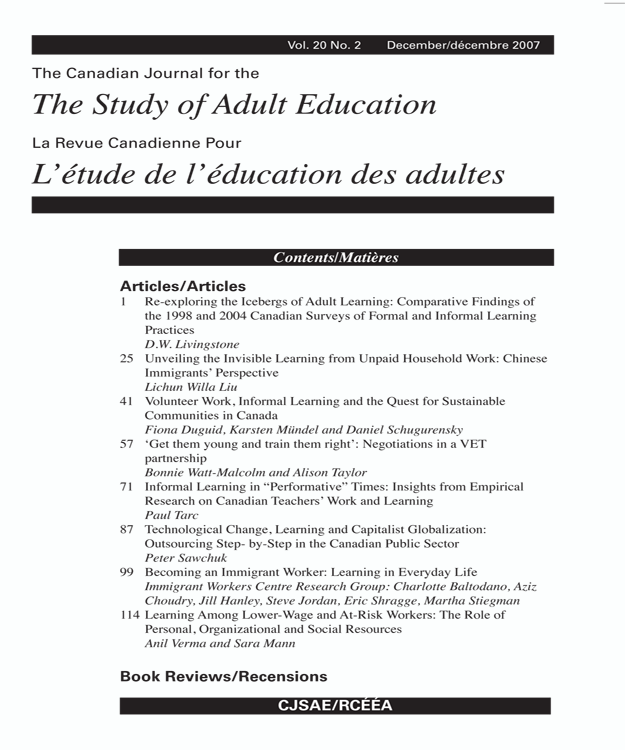 Downloads
How to Cite
Baltodano, C., Choudry, A., Hanley, J., Jordan, S., Shragge, E., & Stiegman, M. (2007). Becoming an immigrant worker: Learning in everyday life. Canadian Journal for the Study of Adult Education, 20(2), 99–113. Retrieved from https://cjsae.library.dal.ca/index.php/cjsae/article/view/1110
License
Authors of manuscripts accepted for publication will be required to assign copyright to the Canadian Journal for the Study of Adult Education/L'Association canadienne pour l'étude de l'éducation des adultes (CJSAE). CJSAE requests that, as the creator(s)/author(s) of the manuscript your are submitting assign certain rights to the manuscript to the CJSAE in exchange for undertaking to publish the article in print and electronic form and, in general, to pursue its dissemination throughout the world. The rights the CJSAE requests are:
The right to publish the article in print and electronic form or in any other form it may choose that is in keeping with its role as a scholarly journal with the goal of disseminating the work as widely as possible;
The right to be the sole publisher of the article for a period of 12 months;
The right to make the article available to the public within a period of not more than 24 months, as determined by relevant journal staff of the CJSAE;
The right to grant republication rights to itself or others in print, electronic, or any other form, with any revenues accrued to be shared equally between the author(s) and the journal;
The right to administer permission to use portions of the article as requested by others, seeking recompense when the CJSAE sees it as warrented;
The right to seek or take advantage of opportunities to have the article included in a database aimed at increasing awareness of it;
As the author(s), the CJSAE wishes you to retain the right to republish the article, with acknowledgement of the CJSAE as the original publisher, in whole or in part, in any other pbulication of your own, including any anthology that you might edit with up to three others;
As the author(s), the CJSAE withes you to retain the right to place the article on your personal Web page or that of your university or institution. The CJSAE askes that you include this notice: A fully edited, peer-reviewed version of this article was first published by the Canadian Journal for the Study of Adult Education, <Year>, <Volume>, <Issue>, <Page Numbers>.
BY AGREEING TO THE FOREGOING, YOU CONFIRM THAT THE MANUSCRIPT YOU ARE SUBMITTING HAS NOT BEEN PUBLISHED ELSEWHERE IN WHOLE OR IN PART, AND THAT NO AGREEMENT TO PUBLISH IS OUTSTANDING.
SHOULD THE ARTICLE CONTAIN MATERIAL WHICH REQUIRES WRITTEN PERMISSION FOR INCLUSION, YOU AGREE THAT IT IS YOUR OBLIGATION IN LAW TO IDENTIFY SUCH MATERIAL TO THE EDITOR OF THE CJSAE AND TO OBTAIN SUCH PERMISSION. THE CJSAE WILL NOT PAY ANY PERMISSION FEES. SHOULD THE CJSAE BE OF THE OPINION THAT SUCH PERMISSION IS NECESSARY, IT WILL REQUIRE YOU TO PURSUE SHUCH PERMISSSION PRIOR TO PUBLICATION.
AS AUTHOR(S), YOU WARRANT THAT THE ARTICLE BEING SUBMITTED IS ORIGINAL TO YOU.
Provided the foregoing terms are satisfactory, and that you are in agreement with them, please indicate your acceptance by checking the appropriate box and proceed with your submission.
This copyright agreement was extracted with permission from the "Best practices guide to scholarly journal publishing" (2007), produced by the Canadian Association of Learned Journals (CALJ).